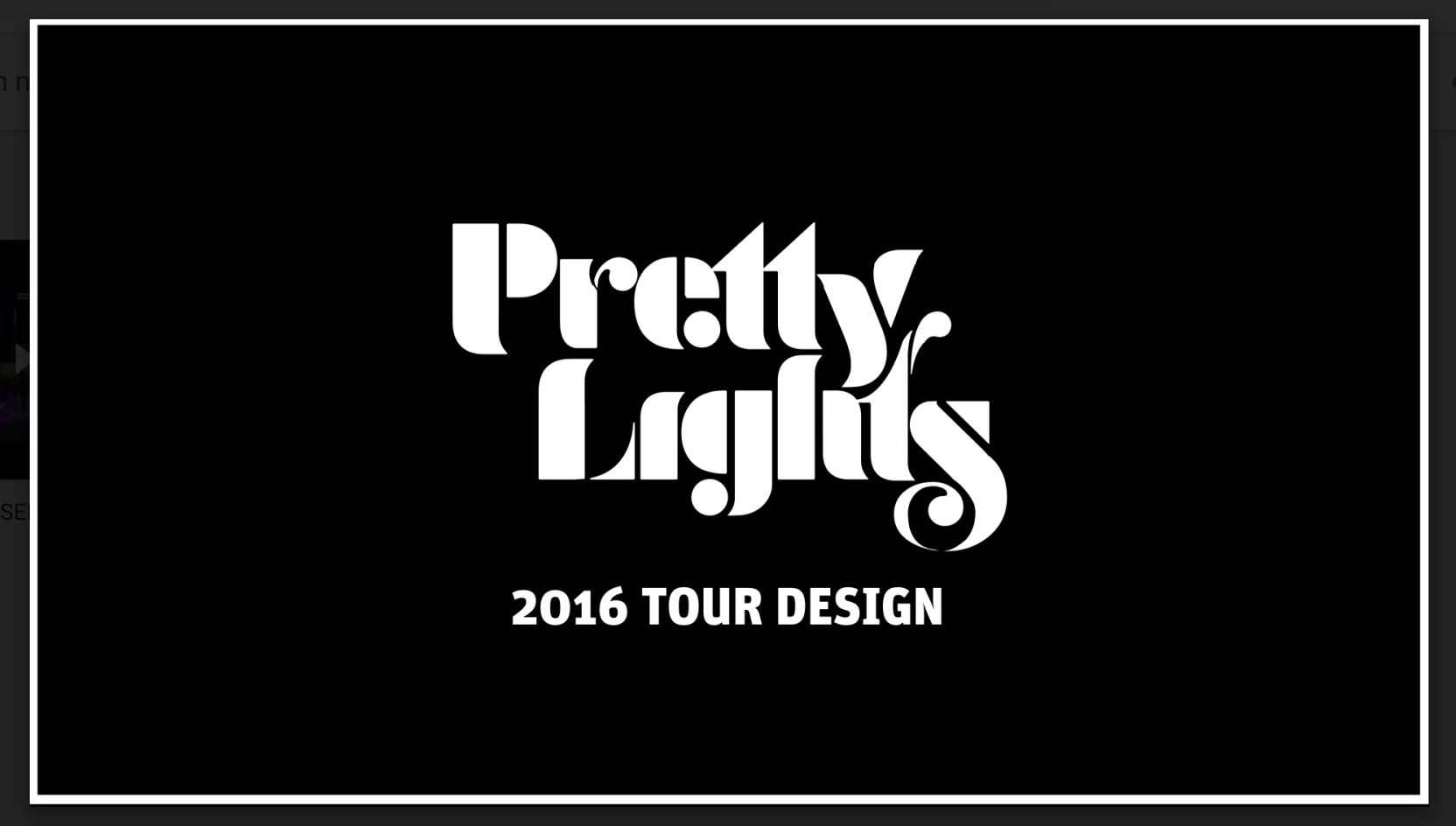 ---
---
The Pretty Lights Episodic Tour of 2016 will go down as one of the most special things I've ever been apart of.  The music was beyond anything I could ever imagine, the venues were amazing, and the production we put together is something I am so incredibly proud of.  What you're about to read is a comprehensive breakdown of all the visual elements of the show.
THE GEAR
LIGHTING
(14) Robe BMFL Spot Fixtures
(18) Clay Paky A.Leda B-Eye K-20 Wash Fixtures
(36) Robe Spikie WashBeam Fixtures
(8) Elation CUEpix WW4 Crowd Blinders
(7) Philips SL Nitro 510 Strobe Lights
VIDEO
(80) ROE 5MM LED Panels
(47) ROE Hybrid LED Panels
(24) LMG LightSlice 10MM LED Bars
LASER
(16) Lightwave Int. Lixels
(6) Lightwave Int. Phenoms
CONTROL
(1) GrandMA 2 Fullsize Console
(1) GrandMA 2 Lite Console
(2) Custom Built TouchDesign Media Servers
(1) Arkaos MediaMaster Media Server
(1) Pangolin Beyond Laser Control Server
Further information on most of the gear listed here can be found on the links page
---
Of course, with all of that gear, one needs an amazing crew to make sure that it gets set up perfectly for each show.  These people never get the credit they deserve for the long hours and stressful conditions they go through to make sure you the fan gets the best possible show each and every night.
THE PL CREW
Phil Salvaggio – The Boss (production manager, FOH audio)
Shelly Harris – Tour Manager
Neal Nance – Stage Manager, Laser Crew Chief
Whit Hawkins- Monitor Engineer, Derek's Backline Tech
Blake "SuperVision" Hanson – Ableton Tech
Chris Bargy – Backline Tech
Andrew Dudash – Backline Tech
Gabriel Fraboni – L2, Programmer, and my Xanax
Todd Stokes – Lighting Crew Chief
Matt Beadonkopf – Lighting Tech
Nathan "Smokey" Williams – Video Crew Chief
Nikki Cox – Video Tech
Blake Addington – Laser Tech
Eric Satre – Audio Crew Chief
Cam Gifford – Audio Tech
Andrew Davidson – Audio Tech
Brian Hopp -Audio Tech
Dorian Weinzimmer – Film Crew Chief
Ryan Berena – Filmer
Hunter Courtney -Filmer
Isaac Smith – Filmer
Bijan Mirkhesti – Production Assistant
Josh Zaepfel – Production Assistant
I'd also like to give special mention to Eric Satre, Brett Dowlen, and Jonny Goode at DSI Event Group for everything they do to make sure the Lights and Sound are top notch. John McDowell, Craig Burros, Adam Camp, and everyone at Robe Lighting for allowing me to debut their Spikie Fixtures. Jimmy Russo and the rest of the crew at LMG for providing all the Video Products for the tour.  Last, but certainly not least, George Dodworth, Mike Dunn and everyone else at Lightwave International, for continually assisting me to make the very best laser show I can put together.
 Thanks to everyone involved in the show, and most importantly, everyone who attended any of the amazing shows that occurred in 2016!