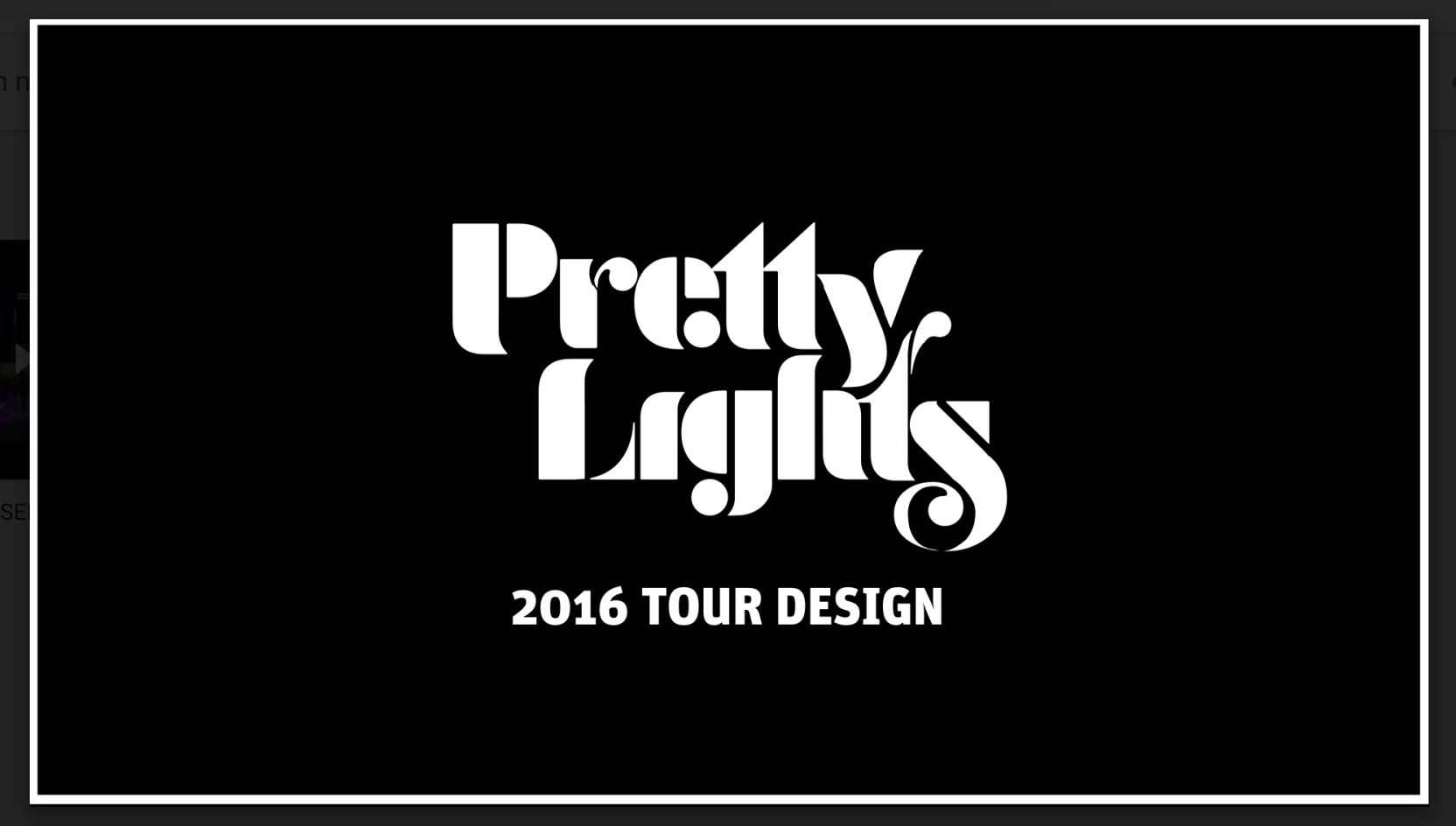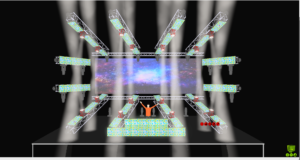 There are two questions that I am constantly asked… the first and most frequent is how I got into the business of lighting design? The second, which I am about to go into great detail for the first time, is what exactly is on stage and how does it all happen? It is amazing to me just how in tune fans are with the visual aspect of the show and how curious they are to learn more about the technical aspects. When I first started doing this there was a fraction of the amount of toys available to create exciting visual productions as there is now. Ten years ago, if you asked an LD what he was using, it'd be pretty straight forward – this spot fixture, that wash, maybe some strobes or other gimmicky lights, and some sort of scenic element. Nowadays, the "standard" lighting package has expanded to include beam fixtures, LED arrays, LED video walls, lasers, and so many others it makes my head hurt sometimes. With so many options, and such varying approaches to how the gear can be used, today's concerts have become over the top visual spectacles whether its Rock, EDM, or even Country music. For the purpose of this post, I am going to focus the attention to the most recent Pretty Lights Episodic Festival Tour from 2016, so let's start from the very beginning.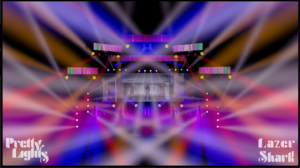 In the Fall of 2015, I was asked to make a unique stage design once a week for two months straight with no restrictions, budget constraints or concern for where we would be playing. It was a more challenging task than I first thought, as I have always taken into consideration the realities of how we tour. Knowing that one day we could be playing an arena and the very next be in a 2,000 person theatre always affected how I designed a stage. I sometimes struggled with the really adventurous concepts many of my peers seem to pull off with ease. Worrying about truck space or load in times seemed to be a mental handcuff that I just couldn't shake, until this task was presented to me. By the end of 2015, I was sitting on eight very unique and exciting stage designs! In January, our team sat down and discussed the elements they loved and hated from each design while I took mental notes as to how I could then create a design that could not only achieve the new design ideas, but also work from a logistical standpoint.
After weeks of drafts, I landed on a design that we all agreed upon, and the next big challenge presented itself: finalize the gear selection. When putting a design together, I often will not know exactly which light will be used. The basic concept of every design is that there are three groups of lights: spots, washes, and "trick" lights. Since the beginning of 2015, both spots and washes have been set in stone. Robe BMFL spots, and Clay Paky A.Leda B-Eye K20 wash fixtures have been amazing and are not going anywhere anytime soon. But, the "trick" lights are always tricky (see what I did there?) Let me start by explaining what I mean by trick lights. Since the start of my time with Pretty Lights there has always been a fixture that is small in stature, fast in motion, and as many as I can possibly fit (or afford) on stage. In the early days, we had huge Martin 101 arrays, and then of course came the Clay Paky Sharpy, one of the most popular and now extremely overused lighting fixtures ever. In all reality, both are actually quite simple lighting fixtures. The notion of making these "trick" lights is that by having large quantities, I am able to achieve programming tricks that wouldn't work with larger fixtures with less on stage. Movement, color, and dimming effects are much more affective with these lights and thus you have the "trick" light category. I have been fortunate enough to establish a great report with Robe Lighting and early in the year they gave me a sneak peek at the best trick light I've ever seen – the Spikie! It was love at first sight, and all I had to do was convince everyone else what I already knew. After months of maybes, and looking into alternates, I finally got the news I was dying to hear: we would be the first tour to debut these new lights. I knew the lighting aspect of the show would be better than ever. Thank you Eric and DSI for making that happen.
The next big hurtle, and by far the most challenging, was how to tackle the video aspect of the show. 2016 was a huge change in this department as we decided to part ways with my long time collaborator and partner in crime Dave Najarian who for many years was the mastermind behind the visual presentation. On a side note, I want to thank Dave for all of his years of creativity and I still miss looking over and seeing his smug smile while running shows. On top of that, we had committed to using a custom Touch Designer server that I had seen maybe twice before and had no clue how I was going to incorporate it into my show file. I spent a week with the mad scientist Eric Mintzer, who created the server, before our first show at the Buku festival to get a preliminary version up and running. It went so much better than I ever could have imagined. Shortly after that show, I had a plan in mind as to how the video would be operated, and Eric was hard at work making all the adjustments I needed to do so. All the while, the actual content being shown was in a state of uncertainty. I stepped up to the plate and committed to teach myself how to edit all the amazing footage Derek has been filming over the last few years, as well as create new atmospheric visuals based off of filming experiments I had done with lights and lasers. The union of Derek's vision of the world along with these new visuals I was creating excited me to no end. To be frank, I spent a majority of the first half of 2016 working on the video portion of the show, something I never thought would happen. As all the stars were aligning in video world, I thought it would be good to make a trip down to the LMG touring facility in Orlando to test everything out. That is when the happiest accident occurred. I had heard about their LightSlice fixtures and tossed around a few ideas as to how we could possibly incorporate them into the design. Before my visit, Derek and I spoke about his concern that we needed an added element that tied the band into the production, and when I saw these in person, it hit me instantly that I wanted to put them inside a video forest so to speak. I couldn't really get the point across to everyone, and it was next to possible to replicate the idea on paper, so I just told everyone to trust me and that it would be a great addition to the show.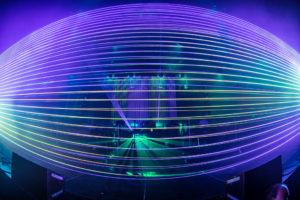 The last and probably most recognizable aspect of the show was something I had conceived long before any of the other parts. I had firmly decided it was time to make some major changes to Laser Land. Gone are the monster 20 watt lasers that had become expected at every Pretty Lights show. In their place, I opted for some newer toys that I had been playing around with on the side. I have a longstanding relationship with Lightwave International, and when they started presenting new ways to incorporate laser displays in the show, I was thrilled at the opportunity to do NEW things with lasers. First, there were the Phneoms, a moving head crowd scanning laser projector. Now, we have been using crowd scanning lasers for a few years, but these offer a whole new level of psychedelic laser display. Using only six fixtures, I am able to wash the crowd, move them onto the band, and even wash the backdrop of the stage with projection never before seen at a Pretty Lights show! (Check out the pics from the Northerly Island shows for the best presentation of backdrop projection) The really exciting addition came in the form of the Lixels, also known as the LazerCage. Instead of the high powered 20 watt lasers, I opted for the ability to create grids around the stage of individual laser beams. It's been a controversial decision as I have heard many asking for the "old laser show" to be brought back. I like to think that as great as that was, the time was right to move on and do some new things. The static grid effects that come from the lixels are, to me, some of the coolest things we've ever done. Its evolution over the course of the tour and upcoming shows is something I am incredibly proud of.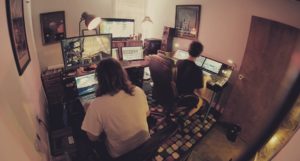 With all three departments of the visual production locked in, there was only one thing left to do: program the damn thing! Months of collaboration between myself and the whiz kid Gabe Fraboni went into making this show the best looking Pretty Lights tour ever! (In my humble opinion) Stay tuned next week for a more technical breakdown of the gear, including some of the early drafts of designs, full gear list, crew list, rehearsal shots, and more!